Paycom Does It Again! $75,000 Donated in Toys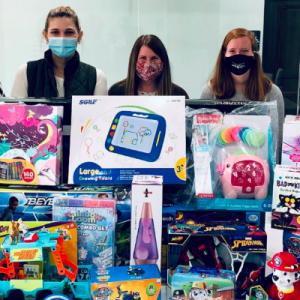 OKLAHOMA CITY –
An Oklahoma City-based company has made a $75,000 donation to help support local foster families this holiday season.
Paycom announced the donation Wednesday to The Anna's House Foundation. The company's employees also participated in a toy drive that resulted in nearly 700 gifts for 60 families.
"Often children need a foster home at a moment's notice and come with little to no personal belongings," said Katherine Craig, executive director of The Anna's House Foundation. "The generosity of Paycom employees allows Anna's House Foundation the ability to support our foster families with much-needed supplies as they open their homes to children in crisis. It is more than a financial gift to our organization. It is a gift of peace, comfort and support."
The Anna's House Foundation website describes itself as "a faith-based organization whose mission is to provide immediate, stable and loving homes for Oklahoma County's children in state custody."
A Paycom spokesperson explained that part of the overall donation comes from employees who choose the foundation as part of a corporate giving campaign.
"Our employees enjoy not only supporting Anna's House throughout the year but also helping ensure these kids and their families have some extra cheer this holiday season," said AJ Griffin, Paycom's director of government and community affairs.