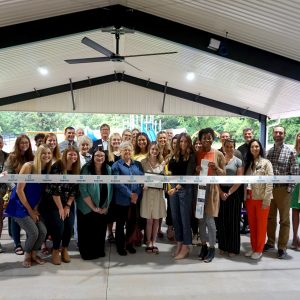 Anna's House Foundation recently held a ribbon cutting with the Edmond Area Chamber of Commerce to celebrate the grand opening of our Luther Community Recreation Center!
The Anna's House Community in Luther, OK is the physical fulfillment of the Foundation's mission: a state-of-the-art community designed to truly foster Oklahoma's children in need in an exceptional environment focused on providing a stable beginning and a healthy future. The property includes eight single-family homes, each serving five to eight children in foster care, primarily sibling groups. Sibling groups, that may otherwise be separated as they enter the foster system due to lack of available placement options, will have a stable, loving home in which they can go to maintain those crucial bonds at such a difficult time in their lives.
The most recent addition is the Luther Community Recreation Center! The multi-purpose space features an art therapy room, medical exam room, office and conference space, gym, covered patio, and playground for the children to enjoy. We are excited for this space to offer healing and hope to children at The Anna's House Foundation and thank all of our supporters for making this dream come true!