Blue Cross Blue Shields Champions of Health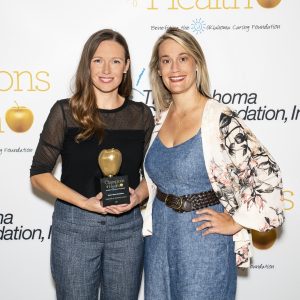 Actress, model and author Brooke Shields will served as the keynote speaker for the virtual Champions of Health Awards on Tuesday, Sept. 28, 2021!
Presented by Blue Cross and Blue Shield of Oklahoma (BCBSOK), the 18th annual Champions of Health Awards honors individuals and organizations who have worked to improve the health of Oklahomans. All sponsorship proceeds from the virtual event benefit The Oklahoma Caring Foundation, Inc.external link, a 501(c)(3) organization that provides Oklahoma children with immunizations at no charge through its Caring Van program.
"The Champions of Health Awards are a chance to honor our deserving winners and finalists, while highlighting the Oklahoma Caring Foundation's efforts to protect the health of our communities," said BCBSOK President Joseph R. Cunningham, M.D.
We are honored to be the 2021 Champions of Children's Health Winner! Thank you BCBS for this award.
Watch our film below!
About Champions of Health
The Champions of Health Awards is presented by Blue Cross and Blue Shield of Oklahoma, in partnership with Care Providers Oklahoma, the Oklahoma Association of Optometric Physicians, the Oklahoma Dental Association, the Oklahoma Department of Mental Health and Substance Abuse Services, the Oklahoma Foundation for Medical Quality, the Oklahoma Health Care Authority, the Oklahoma Hospital Association, the Oklahoma Osteopathic Association, the Oklahoma Primary Care Association, the Oklahoma State Department of Health and the Oklahoma State Medical Association.