The Need for Bilingual Foster Families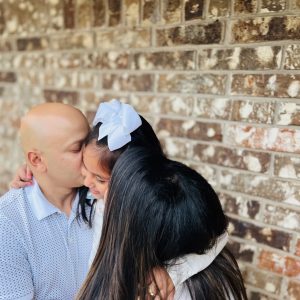 The Manzano Family has been fostering with Anna's House Foundation since June of 2020. In a scary time where everyone was closing their doors, they chose to open their heart and their home to children in need. "I began interpreting for the Department of Human Services and that's when I saw the need for advocates for children and families who spoke Spanish", Maria explained. According to the Kids Count Data Center, 21% of children in foster care are Hispanic or Latino. Wanting to maintain their first language and culture, the Manzano's felt called to foster Spanish speaking children with Anna's House Foundation as their supporting agency.
Last November, Maria and Roberto Manzano learned of a child who was born in Guatemala and living in Oklahoma. "We have a 7 year old and she is the sweetest little girl we have ever met. When she first came in she was shy and quiet, she could not spell her name", the Manzano's stated. "Now, she is beginning to read and has blossomed. Everybody loves her and she knows she's part of the family". Thanks to Maria and Roberto, their foster daughter is being raised in a bilingual home and thriving in public school.
Desiring someone that could support their family spiritually while on their fostering journey, the Manzano's chose Anna's House because it is a faith based agency that provides spirit lead support groups, a prayerful staff, and Christian guidance. "I went to a women's conference and there was a speaker that said, 'if God adopts us with all our sinful nature and baggage… who are we to be the judge and say "I can't do this"? He's the one who gives us strength", Maria says. "Fostering has completely changed our perspective and we are so grateful to have Anna's House as part of our fostering journey".